Date/Time
Date(s) - 26/11/2022
11:00 am - 1:00 pm
Location
Mladost
Category(ies)
Attn Nomads:
It's time for another 6-a-side inter-club tourney! 🙂
TOURNAMENT DETAILS:
Date: 26th November 2022.
Location: Mladost, both pitches.
Time: 11:00 – 13:00 – please arrive no later than 10:30 so we can kick off on time!
Format: 4 teams, round-robin, 3 x 30 min matches per team.
Cost: BGN 10 per player (club covers extra pitch costs).
Spaces: 24 players (6 per team). After that our normal "Subs" rule applies.
Bookings: "Membership Priority" applies. Invited guests will be treated as members.
Cancellation Deadline: 23:00 (11pm) on Thursday, 24th November 2020.
Drinks/Food/After-Party: We've got pizzas & beers waiting for us at a local pizza place nearby once the tourney finishes.
Highlights: Provided nothing goes wrong with the cameras on the day, a highlights package of the tourney (as well as the full games) will be put together & posted online!.. Maybe even a few individual clips, should anything be worthy! 😉
As always, there will be a competitive element to the tournament, but the main focus is on having a great time, both on & off the pitch!.. Limited spaces for what's usually a very popular event, so get yourself signed up & stick it in your diary! 🙂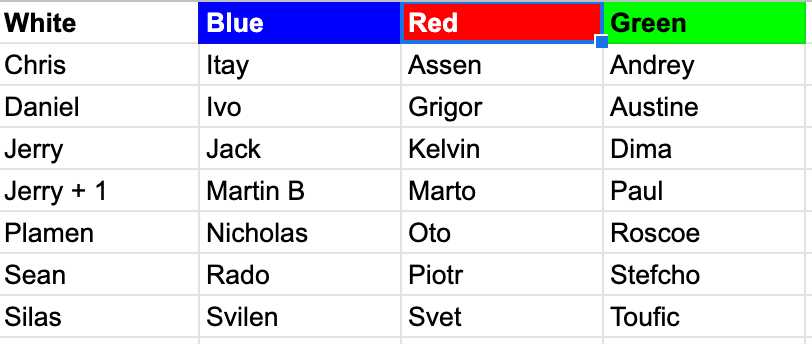 Game/Match Registration:
Total spaces : 50
Registered Players: 28
Remaining spaces: 22
Squad List :


Daniel Klukowski
Roscoe
Andriy
ivo'o
Itay
Dima Green
Toufic Marc Hadaya
Austine
Grigor
Piotr Stelmach
Sean Menzies
Assen Milushev
Stefan
Radostin
Martin B
Chris
Svetlomir
Jerry Jarnald
Oto Petriashvili
Nicolas
Marto
Plamen Penev
Ján Gasper
Silas
Svilen Georgiev
Paul Wright
Levski chrysinsky
Jack Smiddy
Join this game :
Bookings are closed for this event.