Map Unavailable
Date/Time
Date(s) - 27/06/2021
1:30 pm - 5:00 pm
Location
Boyana National Football Base
Category(ies)
Attn all Nomads,
It's time for another "NOMADS vs NOMADS" 11-a-side friendly…
We've also timed this friendly so that it acts as a pre-cursor to an evening of watching footy together. A separate event will be created for that so that we can keep track of who is attending which, if not both. It'll be the "Round of 16" stage in the Euros that day and the fixtures are:
19:00 (7pm) – NETHERLANDS vs CZECH REPUBLIC
22:00 (10pm) – BELGIUM vs PORTUGAL
See the separate event for further details on the "footy watching" segment. As for this "footy playing" segment, the details are as follows…
NOMADS vs NOMADS MATCH DETAILS:
DATE: Sunday, 27th June 2021
TIME: 13:30 – 17:00 (including post-match drinks).
COST: BGN 10 per player. Club will cover the additional match costs.
SQUAD SIZE: 22-30 players (11-15 per team). After that our normal "Subs" rule applies.
BOOKINGS: Membership Priority applies.
REGISTRATION/CANCELLATION DEADLINE: 23:00 (11pm) on Thursday, 24th June 2021
LOCATION: Boyana National Football Base – see map or click this link.
PITCH: Astroturf surface
MATCH OFFICIALS: 1 ref + 2 assistant refs.
POST-MATCH DRINKS: Club will get each player a beer after the game.
TEAMS: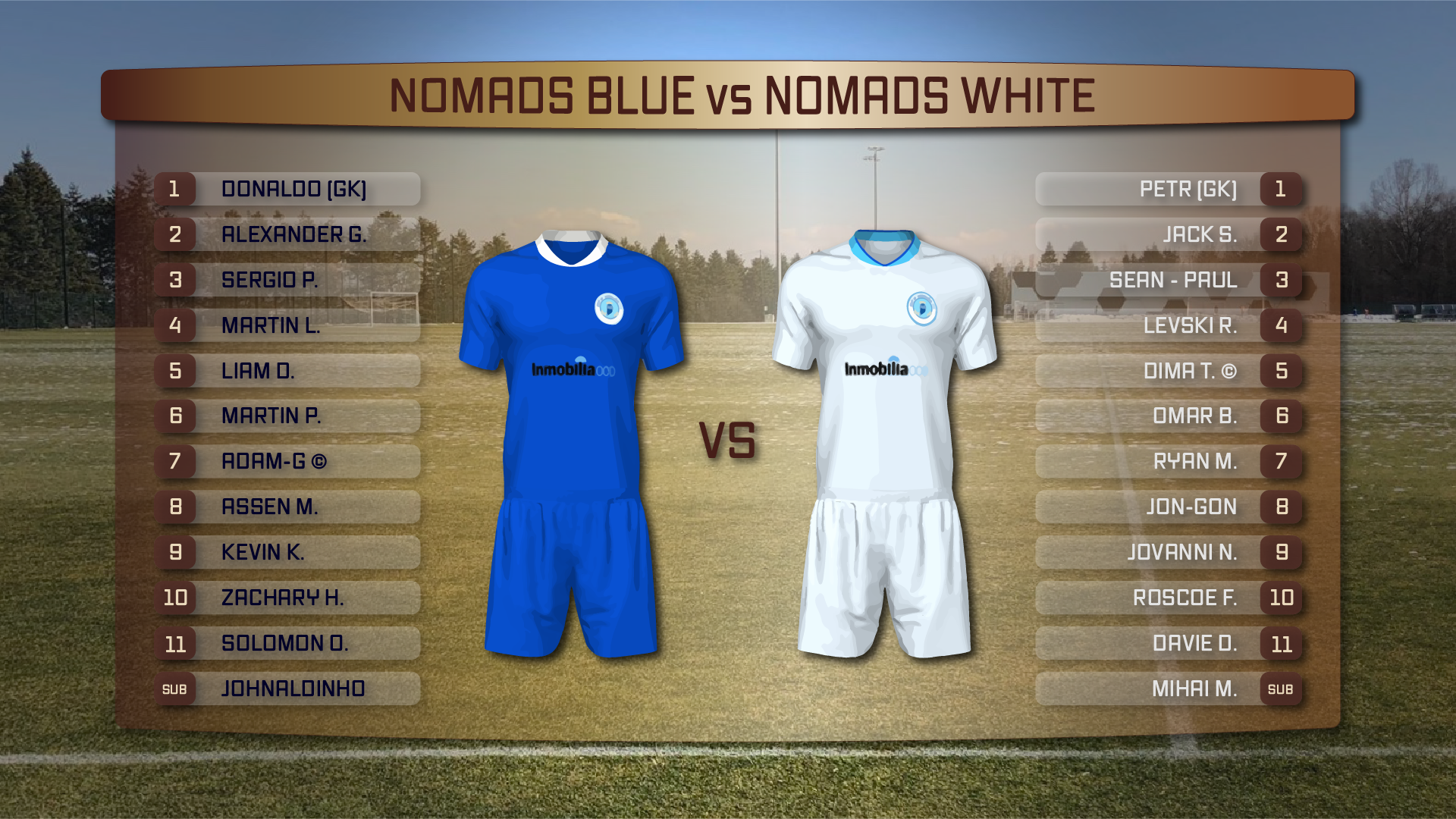 As always, there will be a competitive element to the game, but the main focus is on having a great time, both on & off the pitch!.. Limited spaces for what's expected to be a very popular event, so get yourself signed up & stick it in your diary! 🙂
Game/Match Registration:
Total spaces : 99
Registered Players: 20
Remaining spaces: 79
Squad List :


Adam-G
Dima Green
Sergio
Martin Panov
John González
Liam Day
Alexander Georgiev
Sean Menzies
Kevin
Jack Smiddy
Levski chrysinsky
Jovanni
Omar Bibic
Davie Devine
Assen Milushev
martinlukasz
solomon
Roscoe
Ryan
Paul Wright
Join this game :
Bookings are closed for this event.