Date/Time
Date(s) - 18/05/2018 - 20/05/2018
All Day
Location
Thessaloniki
Category(ies)
It's been a long time coming, but we have finally sorted out a football – beer or beer – football weekend in Thesaloniki depending on the persons priorities. Actually let's just call it a beer – beer weekend, unless you're teetotal like Davie Devine and Paul Wright.
Thesaloniki is obviously great for us logistically, as it's a 3.5 hour drive + border crossing.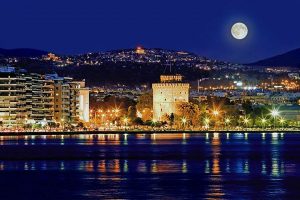 We have booked rooms for 16 persons at two hotels that are a 5 minute walk from each other, as this weekend is particularly busy. I'm sure we can find more rooms, but these hotels are fully booked at the moment.
Hotel Olympia
Park Hotel
We will be in a three team round Robin 11 a side tournament with our old foes from Yugo 55 from Belgrade and a local charity will join with a team of immigrants who are integrating into the local community and the fee for the pitch will include a small donation to their charity.
Rhys from Belgrade works with a similar organisation and knows the English guy who runs the charity.
We are expecting at least 18 players, so without 2 games of 1 hour there wouldn't be enough playing time, but if you only want to play only one game (Kevin) it's no problem and we are just in the process of trying to organise a pitch in the centre of the city if at all possible, which makes life easier for us all.
The cost of the hotels for a twin room per night are approximately €70, so cost per person for 2 nights accommodation is €70.
Sergio has arranged a minibus (9 persons) for the 3 days and I'm guessing petrol will be €100 max both ways and hire will be around €280, so it will be around €40 per person on the bus, but others will take their car.
The pitch and referees will be around €10 per person max, but each player can also make a small donation of their choosing.
So the max each person will pay for accommodation in hotel for 2 nights and travel plus pitch hire is €120.
The club normally put up around €300 for these trips, which can go towards beers and food etc.
Our beer bar for the trip maybe?
Game/Match Registration:
Total spaces : 25
Registered Players: 16
Remaining spaces: 9
Squad List :


niCK
Nathan
Leo Bianchi
Kevin
Andon (Andy)
Enrique1
Sergio
Калоян Трайков (KINDER)
oLiVeR
Daniel Klukowski
Svetlomir
Mladen
Chema
David Yordanov
Sakis
Join this game :
Bookings are closed for this event.