Date/Time
Date(s) - 24/04/2021
11:00 am - 1:00 pm
Location
Mladost
Category(ies)
Attn Nomads:
It's time for another 6-a-side inter-club tourney… Spring Edition! 🙂
TOURNAMENT DETAILS:
Date: 24th April 2021.
Location: Mladost, both pitches.
Time: 11:00 – 13:00 – please arrive no later than 10:30 so that we can kick-off on time!
Format: 4 teams, round-robin, 3 x 30 min matches per team.
Cost: BGN 10 per player (club covers extra pitch costs).
Spaces: 24 players (6 per team). After that our normal "Subs" rule applies.
Bookings: "Membership Priority" applies.
Cancellation Deadline: 23:00 (11pm) on Thursday, 22nd April 2021.
Teams: see below.
AGM, Drinks & Food: After the tourney finishes we'll head to the adjacent bar where we'll hold our Tourney Awards & our Annual General Meeting (AGM), aiming to start at around 13:30 (1:30pm). The club will provide a little spread for us all (pizza, chips & salads) as well as a couple of beers each, so pls do factor this extra time into your plans – we're expecting (hoping) all to stay for it!.. if for any reason you can't stay for the AGM, pls do let us know in a msg or comment below.
*if you're not playing the tourney but still want to attend the AGM, you are of course more than welcome and even encouraged to do so.. again, just let us know via msg or in comments section below.
As always, there will be a competitive element to the tournament, but the main focus is on having a great time, both on & off the pitch!.. Limited spaces for what's usually a very popular event, so get yourself signed up & stick it in your diary! 🙂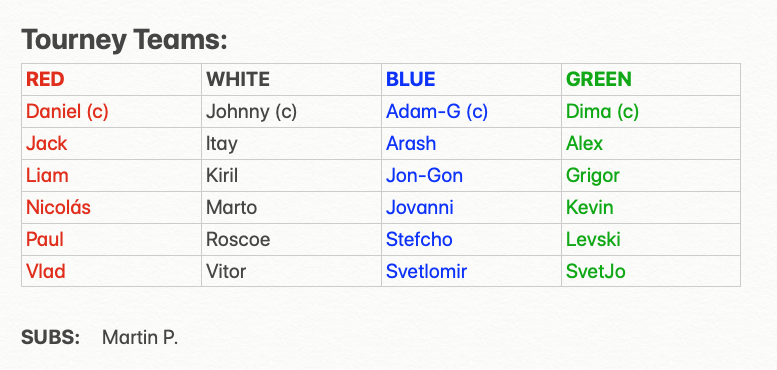 Game/Match Registration:
Total spaces : 30
Registered Players: 25
Remaining spaces: 5
Squad List :


Adam-G
Martin Panov
Dima Green
Itay
John González
Jovanni
Kevin
Svetlomir
Vitor Lopes
Levski chrysinsky
Alexander Georgiev
Stefan
Daniel Klukowski
Liam Day
Grigor
Roscoe
Paul Wright
John Adam
Jack Smiddy
Nicolas
Kiril Tomov
Vlad Yordanov
Arash Arjomand
Marto
Svetoslav
Join this game :
Bookings are closed for this event.